Living in the heart of New York's Central Park or Paris' Jardin du Luxembourg seems unimaginable. But there are people who don't have to pay a single Rand to 'live' in the most prestigious park in Cape Town: the Company Gardens next to the Iziko South Africa Museum. But they have to eat, sleep and work on the street. Meet the people of the Company Gardens; the kings and queens of Queen Victoria Street.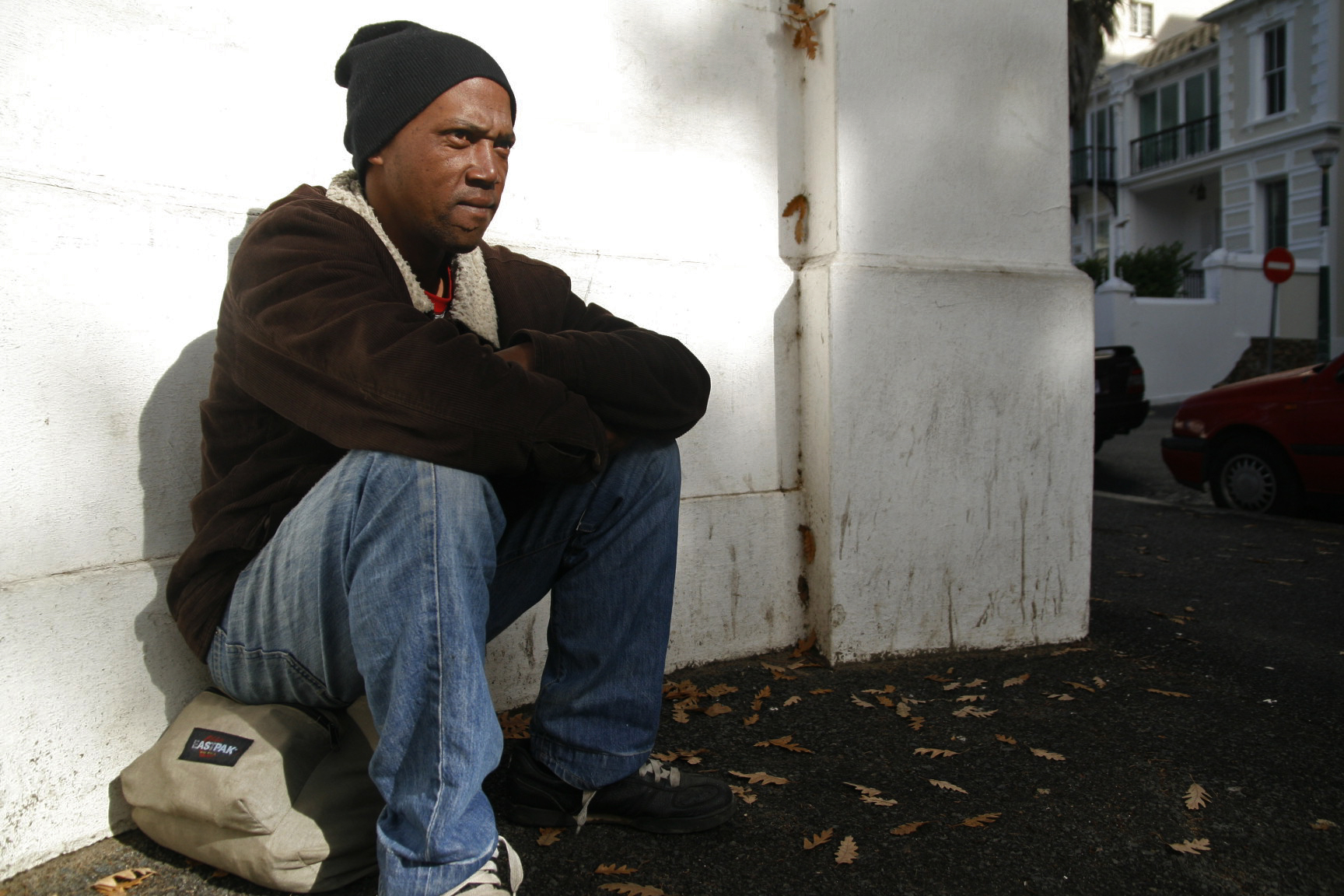 With a straight-forward and determined look the 32-year-old Robert Claasen is watching the cars driving through Queen Victoria Street. "I've got money is this street", he tells without hesitation. Every car which parks in his part of the street, parallel to his 'home' the Company Gardens, is a potential R5, or even R10. "I've got 4 cars parked here right now, I can't leave, that would mean I lose R20." Originally from Bonteheuwel, the eldest of 2 brothers and 3 sisters moved to the City Bowl when he was 25 years old. "I needed to stand on my own 2 feet", the well-thinking Robert says while running between the parked cars, "I needed to show that I can survive without my mother and be an independent man. That's what I am right now; there is nobody telling me what I can and cannot do or where I can and cannot go!"
Like many other homeless, Robert has been living on the street for over years and actually doesn't see himself living anywhere else. There wouldn't be anyone in the townships that can support him anyway. While rubbing his just shaved head he explains: "The Gardens feel like home, it gives me a better feeling to live here than in any township. Here we form a community and take care of each other. It actually doesn't feel like living on the street." Together with his ´neighbours´ or ´roommates´ he shares the feeling that the shelters around Cape Town are more like prisons, without any freedom for their inhabitants. "You can only sleep there, have to be in at 4 and out at 10, don't drink and do what the 'guards' say. If I wanted to be treated like a kid, I would have stayed at home", says Robert slightly irritated.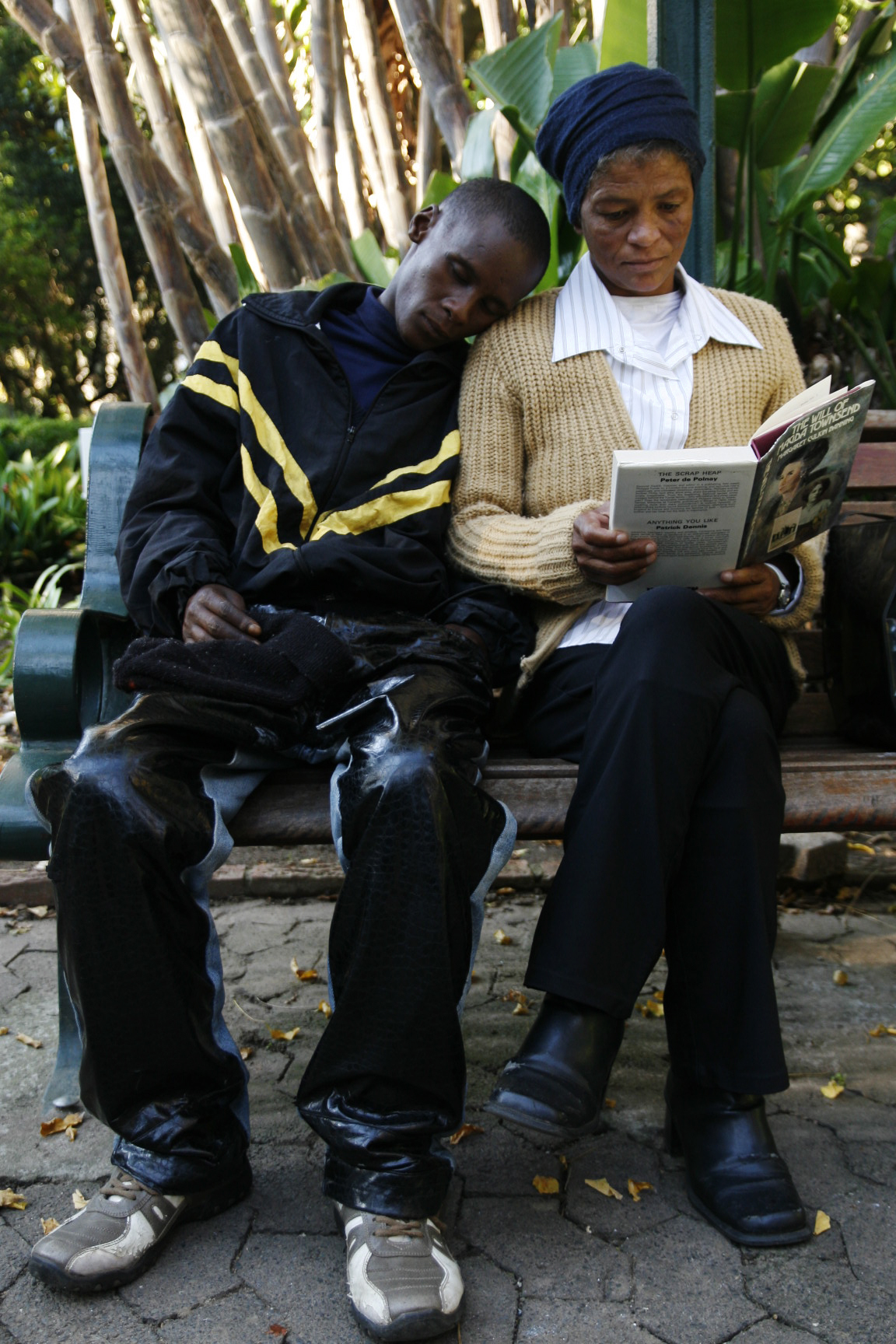 Next to Robert, who left his parental house 7 years ago and lives and works along Queen Victoria Street permanent for 2,5 years, 41-year-old Jackie Goliath and her 33-year-old boyfriend Jeff Arense have been living in the park for respectively 6 and 3,5 years. "I am the first lady here!" the always smiling Jackie claims. "I am the queen of Queen Victoria Street and the mother of the Gardens." Meanwhile the modest and observing Jeff tends to hear her, but doesn't really listen. "We all have our own reasons to be here", he says calm, "and the only thing we do right now is surviving and hoping that the future while bring us better days."
Whoever was first, owns the warmest blanket or makes the most money parking cars, isn't important for the people in the Gardens. Every day brings them a new sunrise and sunset and so each day can bring them either success or misery. But what all the 15 to 20 permanent residents of the Company Gardens have in common is a past which made living on the streets the best option for them. A normal childhood, good education (Robert reaches highest with standard 6) or a positive sight for the future is not something they got at home. "When I dropped out of school and became a bad boy", Robert admits seriously, "I realized I was making the wrong decisions. Drinking, smoking dagga and stealing controlled my life when I was 16/17 and finally they putted me behind bars. There was no mommie to guide me there…"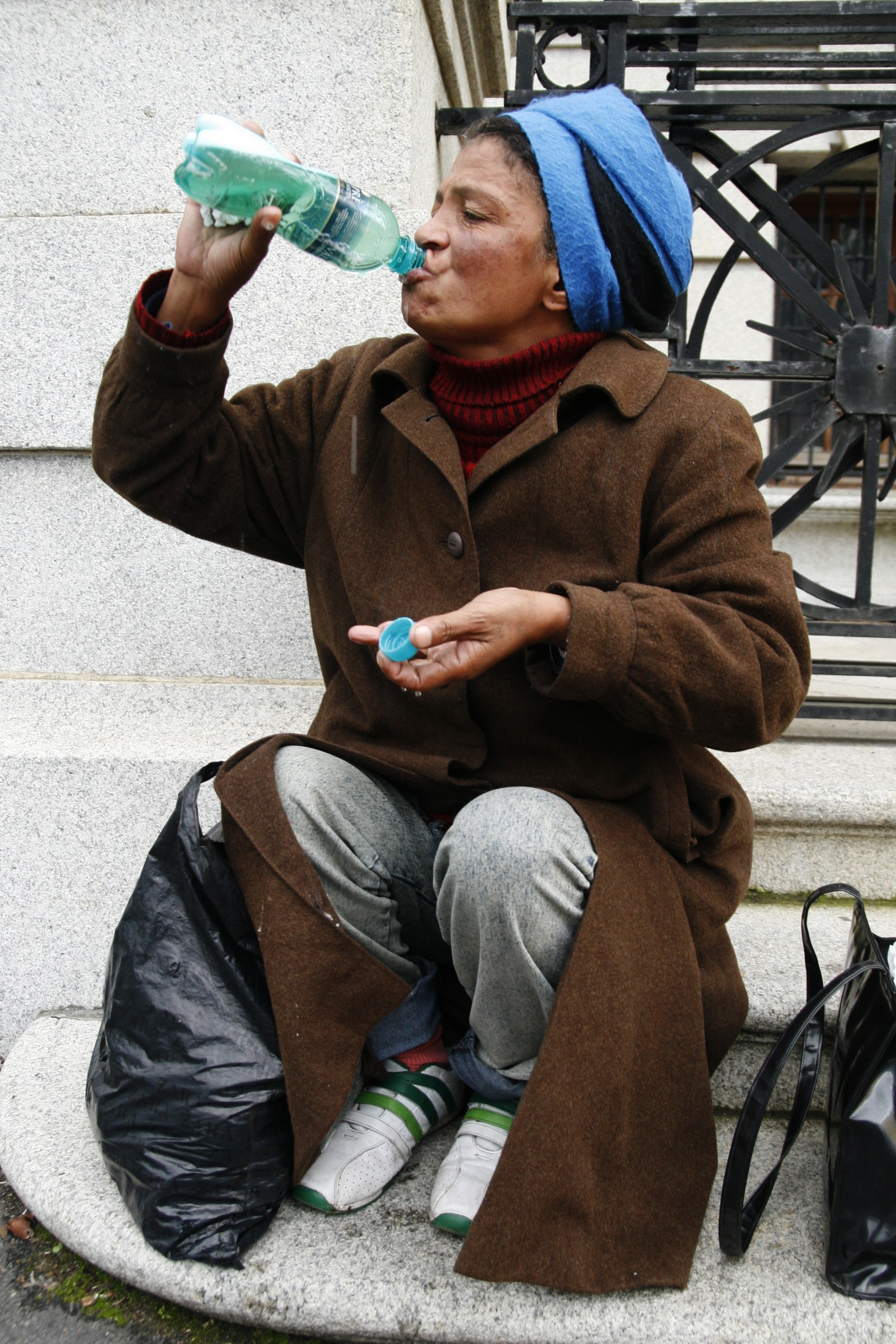 Jackie, who was born in Vredenburg near Saldanha Bay, had a hard knock life from the moment she was born. As the eldest of one brother and sister, her mother went looking for work in Cape Town and took her first born with her. But because the family couldn't cope, Jackie was left with a colored family in District Six when she was just three months old. Her grandmother, who was living in Manenberg in the Cape Flats, got custody over little Jackie when she was 4. "My whole life revolved around Manenberg", Jackie says while softly telling her life story. "My grandmother tried to give me everything I needed, but when I got pregnant at the age of 14 the situation changed. My grandmother wanted me to get married when I was pregnant for the second time (from another man) when I was 20 and so I did. We lived together in my grandmother's house, but tensions ran high when I was pregnant for the third time and because my husband was a drug addict. When I was 25 the beating and fighting reached a boiling point and so I moved out. Alone. He took the children."
After leaving her husband and grandmother behind, Jackie began to live a whole other live. "Sleeping during the day, partying during the night", she laughs. Until she, at the age of 27, got pregnant for the fourth time. Their relationship ended quickly after the father married Jackie's best friend. The only man that gave her a child (her fifth) and took care of both of them was Kenneth, who she lived with in Khayelitsha for over 8 years. "Of all my 5 children, I only still see the last one: Lucia. Gerard, Jo-Anne, Anthony and Tracy-Lee (respectively 27 thru 14) live either with their biological dad, grandmother or are in Foster Care. That's what hurts the most, not being with my children. My biggest wish is to be reunited with my kids; I know where they are, but I don't think I can stand the rejection. They never visit", she tells with tears in her eyes. When Kenneth died 6 years ago of TB, there was no life for Jackie in Khayelitsha anymore. Therefore, she crowned herself queen of Queen Victoria Street.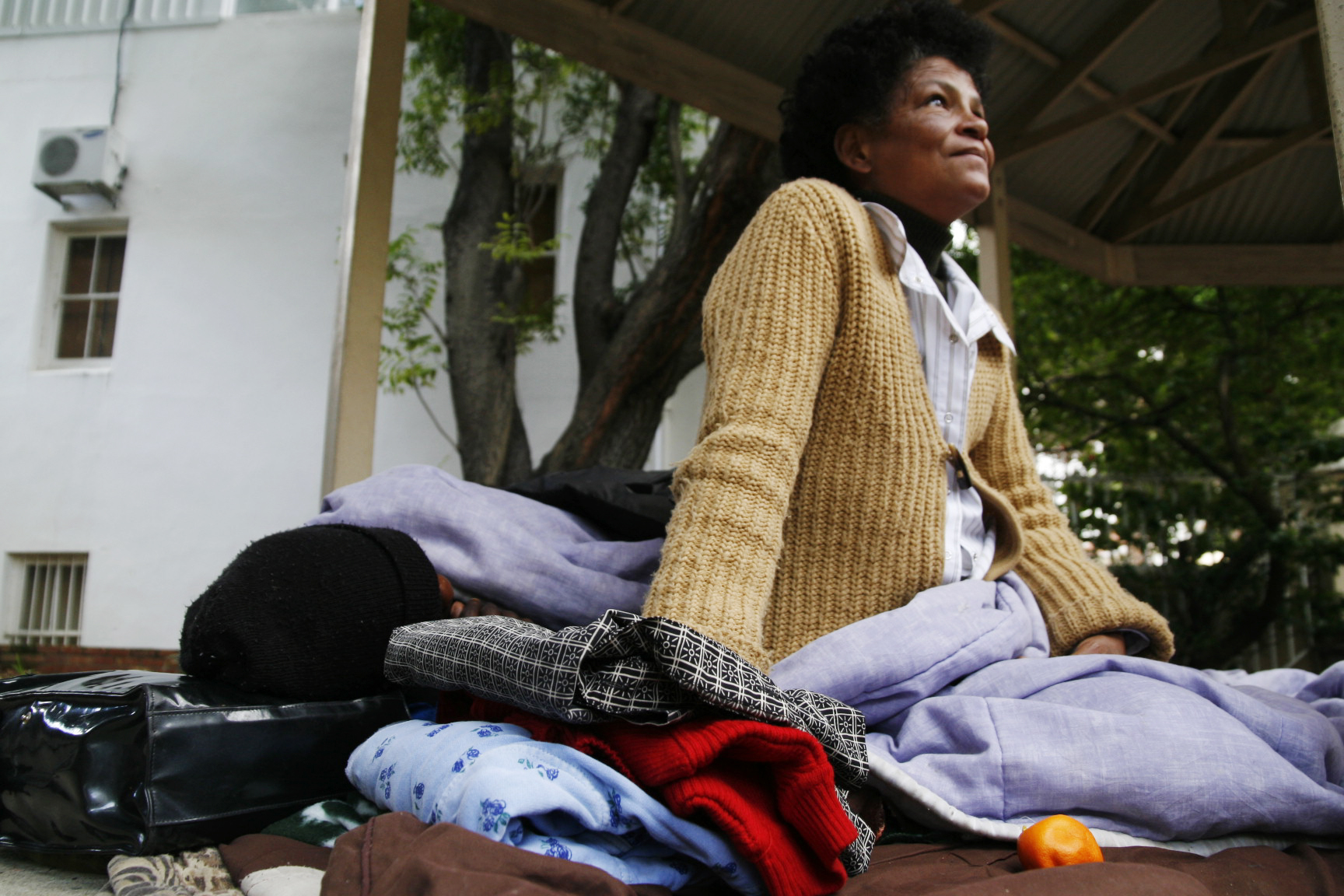 Her king, skinny and small build Jeff, tells a different but nevertheless interesting and heartbreaking story. Born in Knysna, the quiet and humble man had to leave for Worchester with his 29-year-old sister because his mom died. He was only 1 at the time. When at the age of 4 he moved to Villiersdorp to live with his grandma, she wasn't able to take care of him. He was forced to live in a Home of Safety till the age of 19, when he finally made it to Cape Town. "There I met a pregnant girl named Linda", Jeff explains while mysteriously smiling. "With her I lived in Uppington, but I left her because she was constantly drunk on 'pap-sap' (white wine). After that I've lived in Site-B Khayelitsha for a while, but I got tired of it. Everybody over there was begging for cigarettes, alcohol and what not. I've only lived there for 6 months, until I moved to the City Bowl to stroll the streets", he tells while greeting two passerby's.
Be aware not to compare the homeless in the Company Gardens with the baggers in Long Street: every piece of clothing, food and (cool) drinks is cherished with the most possible gratitude. Robert smiles: "Every time somebody gives me something to wear, I make sure that I wear it immediately or at least the day after. Just to show my gratitude. Therefore I never reject food or drinks; I enjoy everything the people in the street are giving me." But unfortunately for the Garden people, it is only the people living along the Gardens who support the weakest in this society. From the government, municipality or city these people don't have to expect anything. "We live from parking cars, collecting scrap and donations", Jeff reply's sounds moderate, "actually were the employees of the streets." With her head down Jackie adds: "I'm tired of it and actually too sick to work. But there is no government to rely on; we are all on our own. They say I'm not sick enough. But I will never steal or skarrel, that's below my level."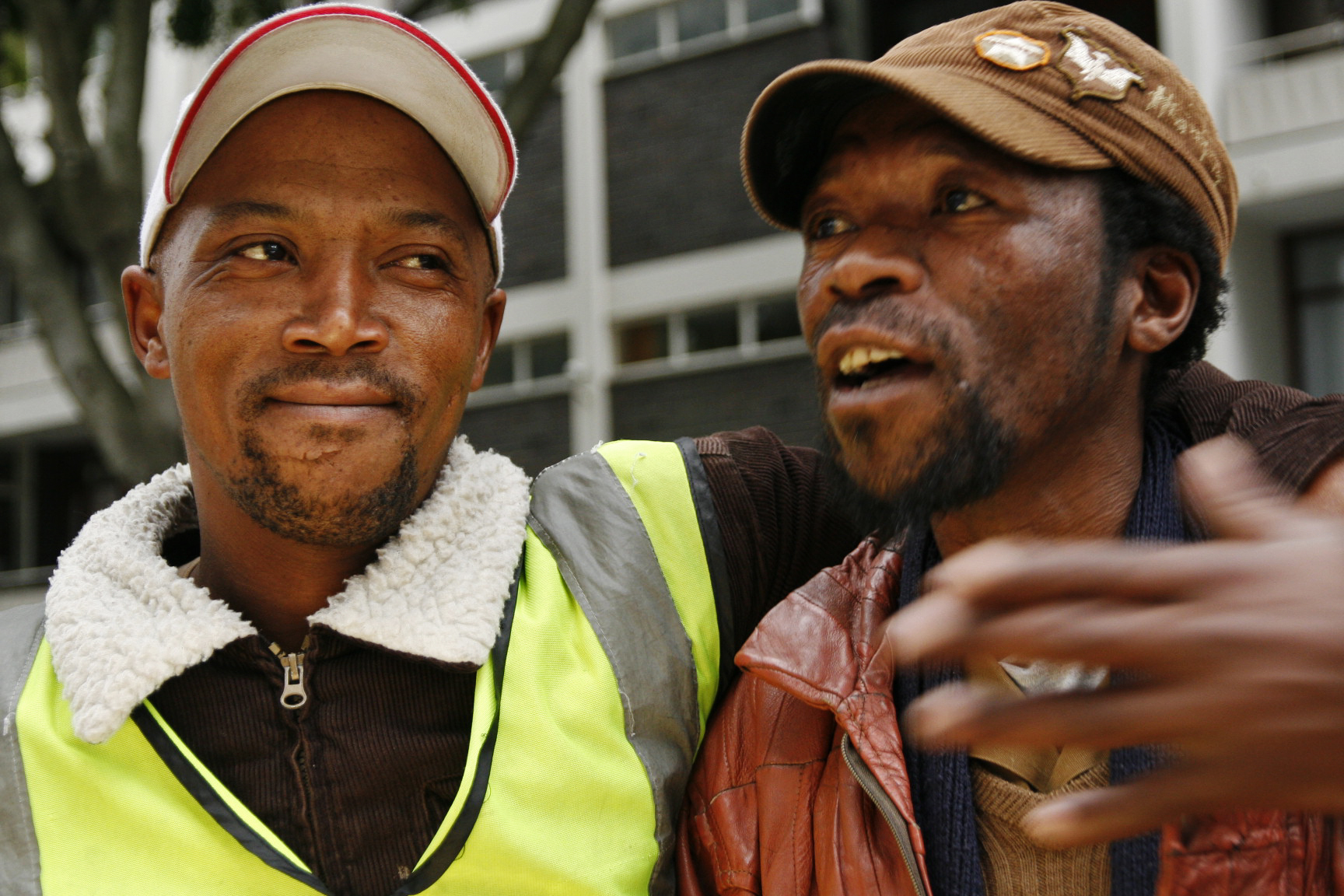 Luckily there still are places where homeless people can go to when donations run dry: churches. "Every weekday from 9 till 1 the St. George´s Cathedral turns into a community centre where we can get two slices of bread, some rice and a place to sleep", Jackie sighs. "And on Wednesday night we can collect some carrots at the church in Kloofstreet", Robert adds. "But it's a shame they closed so many places where we could get food down. People were rude, started pushing and that leaded to people getting stabbed. Then they decided: once but never again. No more help", Jackie sighs again. And help is not something they can expect from the South African Police either. They aren't bothered with the people living in the Company Gardens; they've got 'better things to do'. So the task of assisting the homeless people on the streets is up to the Central City Improvement District (CCID) security personnel patrolling the parks and streets and, according to Robert, Jackie and Jeff, they do a horrible job.
"They're drunk and on drugs!" Robert shouts. "They chase you away when you are sleeping, telling you to find another spot, or they steal you're blanket, food or little money you have. The security is just the same or even worse then the skelms (thieves), because you can't do anything about them." The punishment for sleeping in the Company Gardens is hard to define. Everything from just one night up to a weekend, a week or even multiple months is possible. "They just lock you up for nothing", Robert continues his tirade. "And the stuff they steal, they just keep for themselves or give it away to some other people who live on the streets as a bribe. They're as corrupt as can be, but who are we to complain. We are just homeless people!"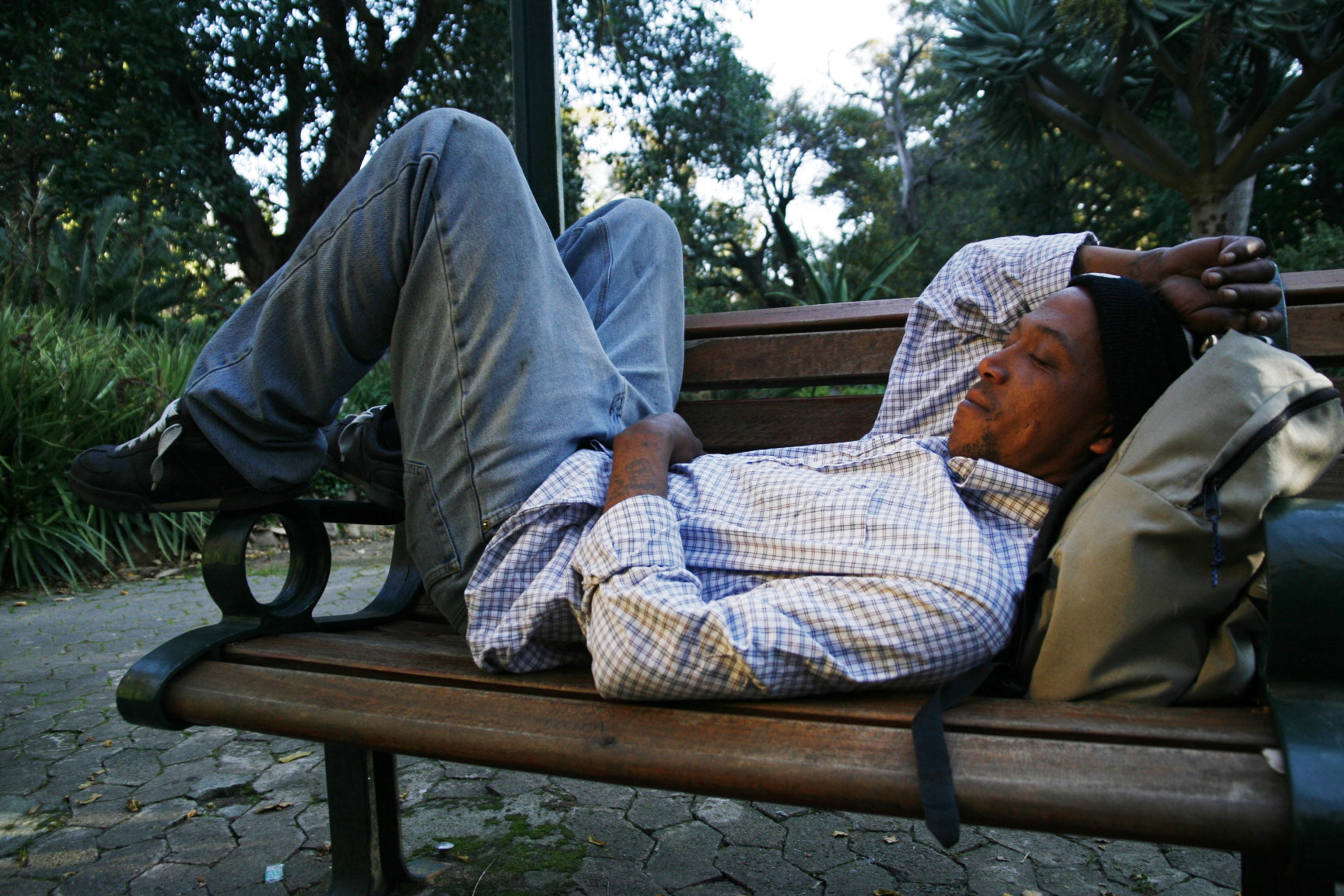 Although they already have their own spot along Queen Victoria Street where the people know, trust and support them, there are still a lot of homeless people out in the streets who don't have their 'own' place to live and work. "During summertime the park is always more packed with people seeking a place to stay then during the cold winter months", tells Jackie, "sometimes these new people stay, but most of the time they leave to stroll the streets again." It doesn't happen often that a 'new guy' wants to take over somebody's spot. "We chase them away", Jeff says direct, "we form a community, all together. We have to respect each other's place, just like everybody else. But we also take care of each other: we share our dop (alcohol) to keep us warm, keep each other company and support somebody when he has a hard time.
The people of the Company Gardens might live in one of the most beautiful parks in South Africa, definitely in Cape Town, but that doesn't make their lives any easier. Living on the streets, wherever, means a hard knock lives with little up's and a lot of down's. Every one of the Garden People has hopes of a brighter future, each in its own way. And there are a lot of dreams, but, as Robert painfully pointed out: "When you wake up, nothing's changed."
Pictures © Sara Gouveia